News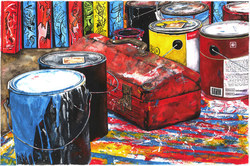 News:

My painting, "You Do That Voodoo," will be exhibited in the Alliance of Fine Art's Best-of-the-Best show March 13th - April 29th at the Mayslake Peabody Estate in Oak Brook.

No Blarney!! My paintings, "Purr-fectly Charming" and "SOLE Food" are part of the Celebrating the Emerald Isle show at the McCord Gallery and Cultural Center in Palos Park, March 1st - April 15th.

Three of my paintings are included in the Norris Gallery "Watercolor 2019" show February 23rd - April 14th at the Delora Norris Art and Cultural Center in St. Charles.