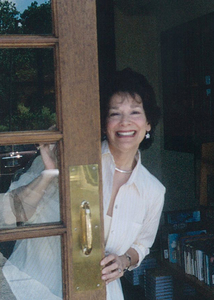 PORTALS ( artist statement )
Behind every door there is a story. With every turn of a door knob or handle there is a story. And behind every window there is a story. And my story, as an artist, is that I love painting this subject matter. I see doors, knobs and windows as much more than architectural embellishments and attempt, with my work, to tell their story. I am especially intrigued by European portals and those that show their age and attitude.
When I focus on a door knob, particularly those that are old and weathered, I can't help but wonder about the many people whose hands have turned the knob or yanked on the handle. What was their mood that day? What were their expectations when the door opened ? Brass, glass, bronze, copper... I love it all. And the rustier and weathered the better.
There is beauty in a plain but proud wooden door... an ornate door... a brightly painted door with a hint of glass.. and a door dressed with shutters. As a door is opened, we cross the threshold to leave something behind as we enter to embrace something else. When I begin painting a door... I wonder about the kind of people whose lives go on behind this door. Does this door project a happy home. If the door is in ill repair, what does that reflect about the owners. Perhaps a groom has carried his bride over this threshold.... children have charged through this open door after school... doors have opened for dogs to run and play.
A mere pane of glass separates busy people with busy lives from the outside world. Clear, frosted or tinted...we look out of these portals to check the weather, look for the postal carrier, await the return of loved ones... and bear witness to the change of seasons. The morning light plays tag with shadows cast on the reflective glass...and... at night, the story of family life can often be told in silhouettes on the curtains or shades. Peeking "through the looking glass", we catch a glimpse of the world beyond our walls and free our imagination to run wild. Those out for an evening stroll or cruising by in their car may catch a glimpse of life taking place behind the glass. And as I paint, I ask myself if the people behind the glass are happy or sad. Do they often look beyond the inside to embrace the outside or are they more content being home bodies.
Doors, windows, door knobs all fascinate and challenge me to tell their story with paint, brush and paper. While they comprise the majority of my portfolio, I paint any subject matter that catches my fancy.
I paint in a photo realistic style attempting to capture with watercolors the essence and unique attitude of my subject matter. Painting fills me with joy and transports me from the everyday to another world. I enjoy sharing my passion for the creative process with others and feel privileged to have this opportunity working as an Integrative Therapy Artist at the Cancer Center at Little Company of Mary Hospital in Evergreen Park, Illinois.
Since 2000, I have worked one-on-one with patients who are undergoing chemotherapy to help them pass their treatment time and to shift their focus from the treatment to creating a work of art to be shared with family and friends. Additionally, I teach art classes to those living with a cancer diagnosis who live in communities served by the Hospital.
I also "Paint With Words" when I help patients ease the stress, anxiety and fear of cancer through Guided Imagery sessions. This meditative process helps to alleviate the side effects of treatment.
I exhibit my work in juried art shows and venues where I have been privileged to receive numerous awards for my work. An active member of the LaGrange Art League, I enjoy the wonderful relationships that have developed with fellow artists. On occasion, my two four-legged furry pals "Paws" to check out the progress I'm making on a painting.
My love for art is surpassed only by my love for my husband, Gaines...my greatest fan and supporter.